There is no denying that winter in Calgary is cold. However, the ever-present snow, sunny days, and festive atmosphere make this Canadian city an absolute delight to visit this time of the year.
From iconic winter sports to beautiful white landscapes to magnificent light shows, a winter trip to this cosmopolitan Alberta city is always incredible.
Ready to travel again? Don't go without travel insurance.
I recommend SafetyWing Nomad Insurance. I've been using it since 2019 and I can assure you it's the perfect solution for nomads like you and me.
So, if you're wondering what to do in Calgary in winter, you've come to the right place. Read on to learn what to expect from the cold season and the top things to see and do.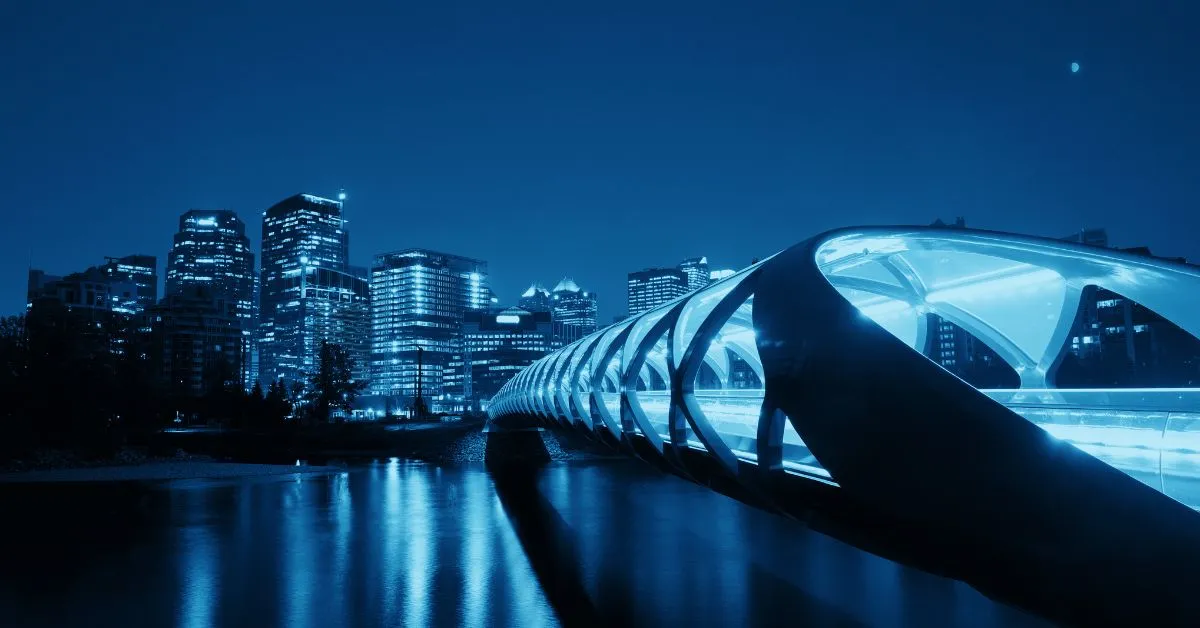 Visiting Calgary In Winter
Winter in Calgary brings fresh, crisp air, ample snow, and abundant sunshine.
Here's what to expect if visiting Calgary in November, December, January, or February.
Calgary In November
November sees a significant drop in temperature compared to the month before, and it certainly doesn't feel like Fall anymore.
However, it also gets colder throughout November, so visiting at the beginning may be warmer than at the end.
The average temperature is 3° during the day and -8° at night.
Regular snowfall also begins in November and continues steadily until March.
Thus, you can combine a city break with a skiing trip at the nearby resorts. If you come in the second half of the month, you'll also catch the beginning of all the festivities.
Calgary In December
In December, Calgary typically remains freezing all day, not exceeding more than -2°. The nights are also bitterly cold, dropping as low as -12°.
However, the abundance of festive events and activities makes visiting Calgary in December more than worth it. If you come during this month, you'll never feel bored.
However, Calgary's festivities bring the crowds, and December can be a busy month, especially around Christmas and New Year's.
Unfortunately, this also means flights and hotels may be more expensive.
Calgary In January
January is Calgary's coldest month and can be unbearable for those sensitive to the cold. During the day, the temperature rarely creeps above -3°, and at night, it's not uncommon to reach -14°.
The good news is that despite the sub-zero temperatures, it rarely rains, so it's not as dark and grey in Calgary compared to other Canadian cities.
There is less going on in Calgary in January compared to the previous month.
Even so, it's an excellent time to come if you like to visit places with minimal crowds and low accommodation prices.
Calgary In February
By February, the temperature is slowly rising, yet it is still freezing. Expect highs of -1° during the day and -11° at night.
Like January, there are no crowds of tourists in Calgary, so it's a great time to see the city if you don't mind the cold.
There is surprisingly a lot going on in Calgary in February.
If you're here during the second and third weekend of February, check out Glow Downtown Winter Lights Festival, where Glowfest artists use light to create performances and art installations.
Alternatively, on February 8th, you can join in the fun at the carnival-style winter celebration Bowness Winterfest.
Things To Do In Calgary In Winter
If you are heading to Calgary this snow season, wrap up warm and check out these awesome winter activities.
Check Out The Festival Of Lights
The Lions festival of lights is an annual event in Confederation Park that runs from the end of November to mid-January.
Between 6 pm to midnight each night, you can see the park lit up by over 600,000 lights, forming festive decorations.
If you're in Calgary at the end of November, check if you're in town for the opening night.
When the lights are first turned on, there are usually lots of festivities, including fireworks, food and drink vendors, and ice sculptures.
Another fantastic festive light show is Zoolights in Calgary Zoo. The event has been running for over 25 years and typically lasts from mid-November to mid-January.
With themed areas like a Prehistoric Park and a Polar Wonderland, it's an excellent and unique way to see the animals and support wildlife conservation.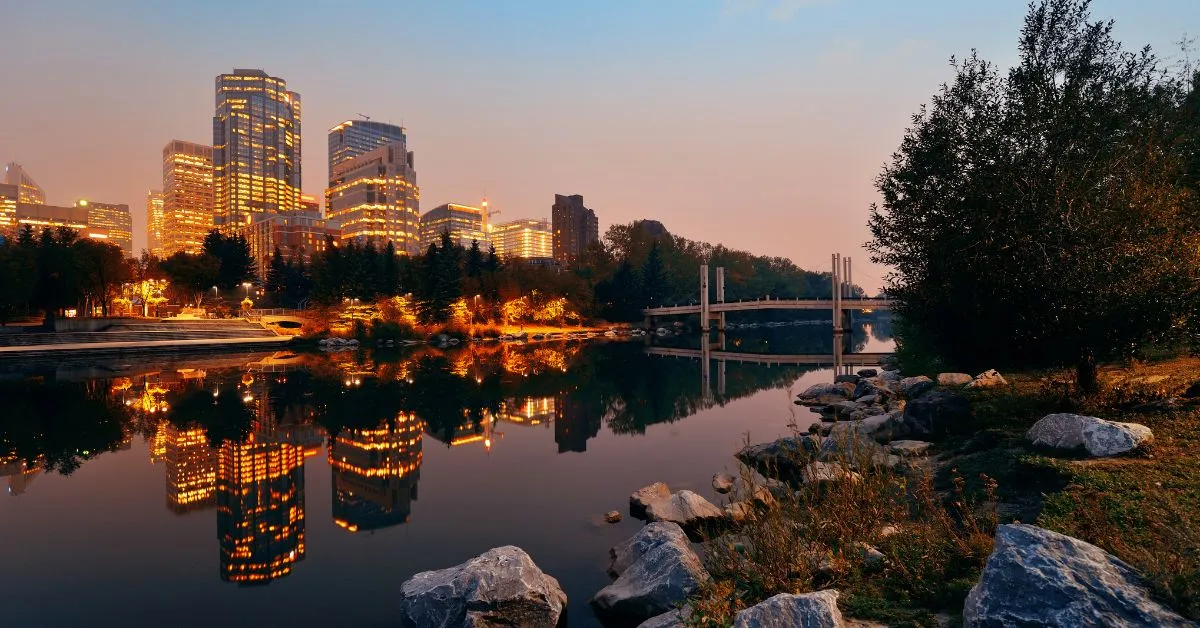 Go Tubing
WinSport Tube Park is the largest tube park in Western Canada, with eight groomed lanes, some designed for single riders and others for groups.
Plus, there is also a magic carpet to carry you to the top of the hill, making it a relaxed and enjoyable winter activity.
Located at Canada Olympic Park, Winsport is open from mid-December until the end of January. You need to purchase tickets online beforehand.
You can also make a day of it at Canada Olympic Park by skating in the indoor ice rink and skiing or snowboarding at Terrain Park.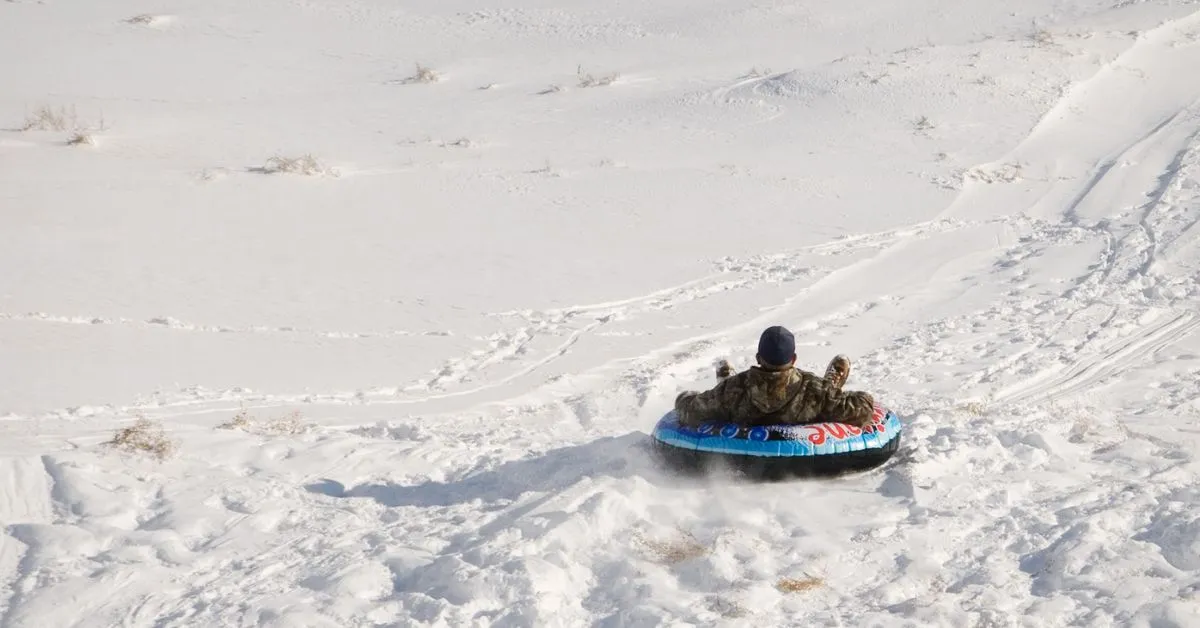 Spend A Day At A Ski Resort
If you want to spend some time in nature and try an exhilarating new winter sport, a visit to one of the nearby ski resorts is a must.
Several ski areas are within a one to two-hour drive from Calgary's city center.
The closest option is Nakiska Ski Area, located just one hour west of Calgary.
Sitting in the hills of Kananaskis Valley, this resort boasts a 735-meter vertical descent and some impressively long runs – the longest is 3.3 kilometers!
Another option is Mount Norquay, a smaller, more affordable resort ideal for beginners. It has some great leaner runs as well as a fun tubing park.
Finally, Sunshine Village is about the same distance from Calgary (1.5 hours). It is popular among advanced skiers and snowboarders as it has lots of black and double black runs.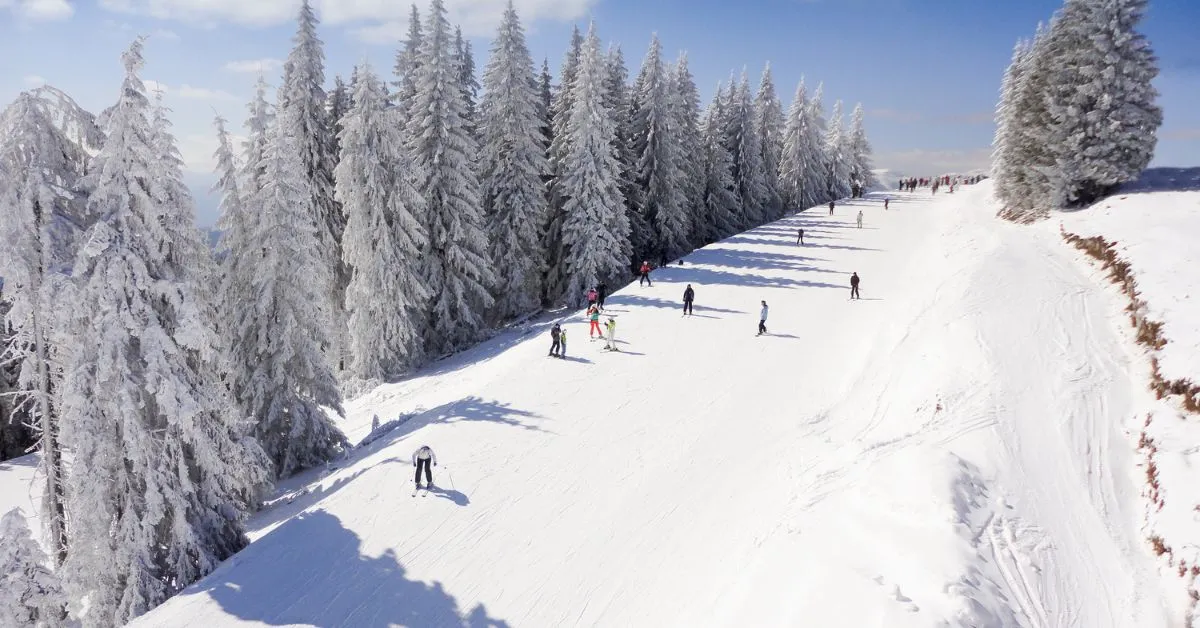 Marvel At The View From The Top Of Calgary Tower
To see the winter wonderland of Calgary glistening in the winter sun, head to the top of the 191-meter Calgary Tower. The observation deck offers the best 360-degree vistas of the city skyline and beyond.
On a clear day, you'll see the snow-capped Rocky Mountains, the foothills, and the prairies.
One of the top attractions at the Calgary Tower observation deck is the glass floor, which will make you feel like you're floating above the city.
The tower is open daily from 10am to 9pm, so you can take your pick of seeing the view during the day or at night (or both).
To make your visit extra special, enjoy a drink or meal at the revolving Sky 360 Restaurant and Lounge.
Revolving once per hour, you can enjoy changing panoramic views while sipping a cocktail or tucking into some mouthwatering dishes.
What's more, if you're in Calgary for Christmas or New Year, be sure to get a view of Calgary Tower from the outside to see the unique light shows.
The tower illuminates and puts on a festive light display on Christmas Day, Boxing Day, and New Year's Eve.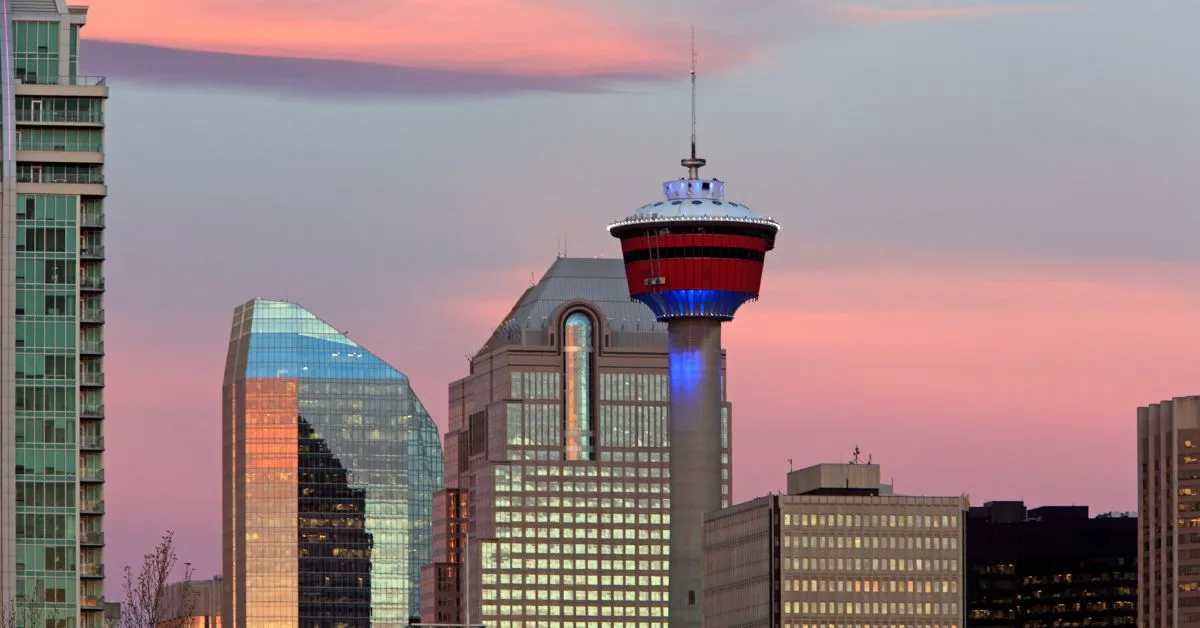 ---
---
Get Your Pulse Racing By Climbing A Frozen Waterfall
If you're an adrenaline junkie, you'll love the exhilarating winter sport of ice climbing. Ice climbing involves climbing ice formations like glaciers and frozen waterfalls.
Haffner Creek at Lake Louise and King Creek in Peter Lougheed Provincial Park are two popular places to do this near Calgary.
However, this is not an activity you should go and try on your own with no equipment.
If you want to try this intriguing activity, join the guided ice climbing day or weekend run by Calgary University.
On this adventure tour/course, you'll get to climb a frozen waterfall safely by learning the basics involved, such as movement, belaying, and using ice tools.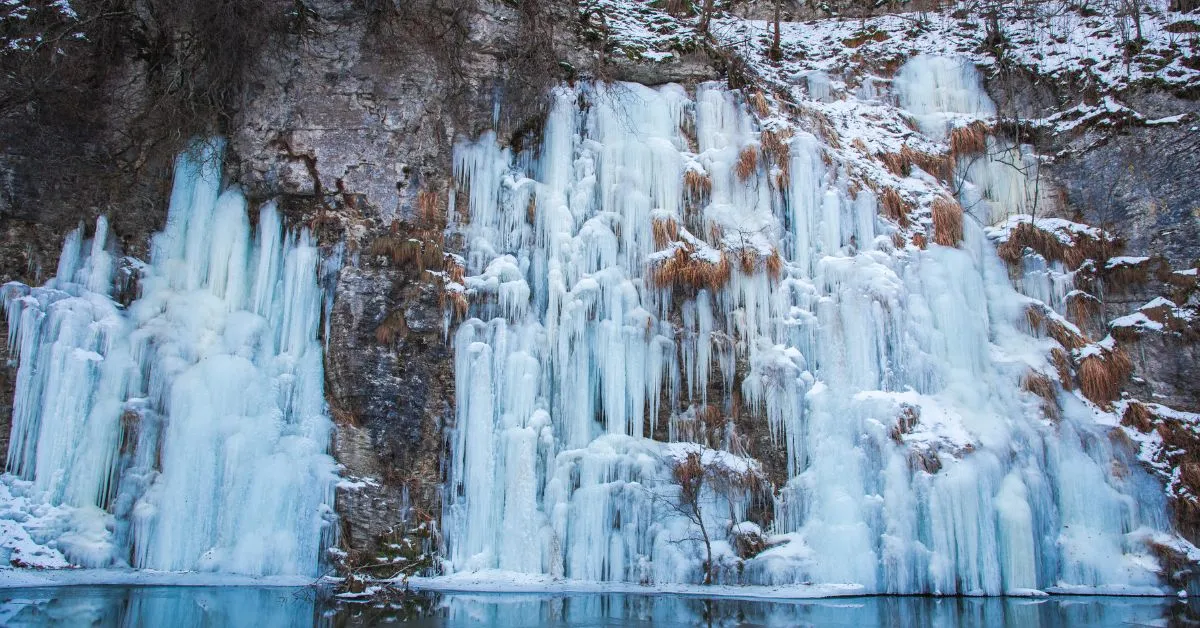 Unwind At The Spa
A spa day is an indoor winter activity that you are bound to enjoy in Calgary. The city has several great spas, including the tranquil Riverside Spa along the Bow River.
Here you can warm up in the eucalyptus steam rooms, experience the Swiss raindrop showers, and relax in the cozy fireside lounge with light refreshments.
Choose from a range of massages, facials, body wraps, and more, or indulge yourself with a spa package.
The Rocky Mountain Retreat package gives you a full spa day with Hot Stone Therapy, a Signature Body Wrap, Organic Facial, Paraffin Manicure, and Pedicure.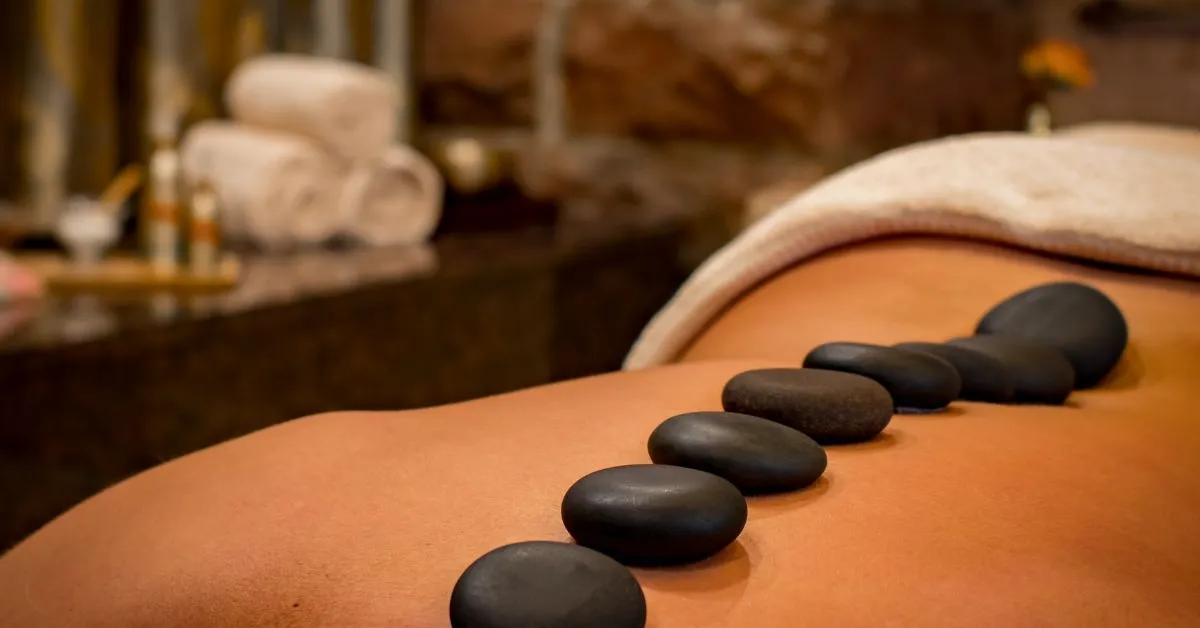 Stroll Along Bow River
If the cold weather doesn't make you want to hibernate indoors, take a winter walk along the picturesque Bow River.
The river walk has many things to see, including fantastic murals, short nature trails, and landscaped gardens.
Another fab sight here is the cute red tube-like bridge known as Peace Bridge, which looks particularly eye-catching when covered with a fresh layer of snow.
Remember to wrap up warm and bring a flask of hot tea.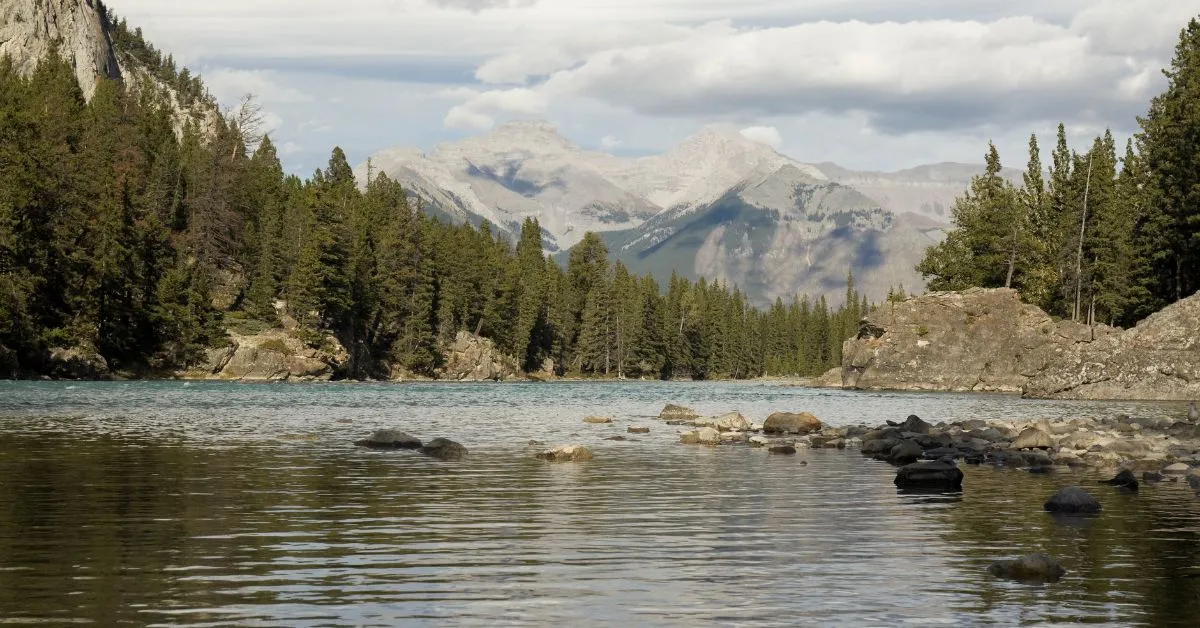 Final Thoughts On What To Do In Calgary In Winter
The white roofs, snow-capped mountains, and glistening forests make Calgary a beautiful place in winter.
So if you find yourself here during the cold months, you'll likely find it hard to stay inside.
Now you know what to do in Calgary in winter, what are you waiting for? Start planning your upcoming Canadian winter getaway today.
If you're traveling to Canada soon, check out our guide to buying a Canadian SIM card with a great data plan.
Visiting Canada soon? Read one of the following guides: