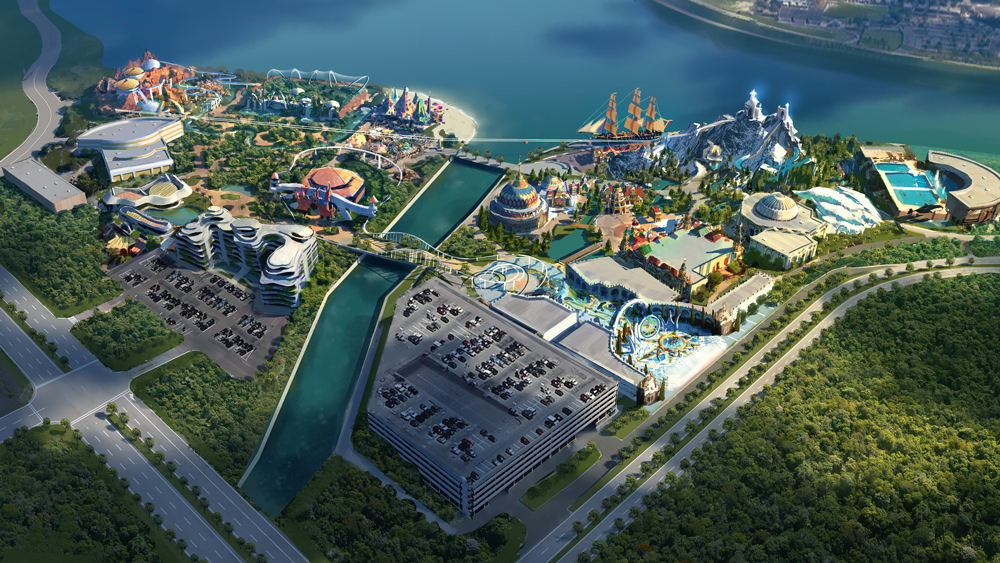 Theme park designers are constantly looking for ways to improve the stories they tell through their attractions and rides. Their placement, structure, and surrounding activities all play a role in guest experience which is why the process of creating a great layout can be so complex. In this guide, we take a closer look at the steps necessary to create a successful theme park layout design and best practices that designers should be aware of. Keep reading to discover tools, tips, and examples you can apply to your own theme park layout design and delight guests like never before.
How to create a theme park layout design
Theme parks are some of the most popular attractions in the world. Even though there are many reasons for visiting a park, for many of us, it's about more than just the rides. A theme park is a place where you can experience something truly special. That's why the experiences created by a great layout matter just as much as the number of rides inside the park itself.
Here are the necessary steps teams must take in order to create successful theme park layout designs.
Step 1: Host a kickoff meeting
The initial meeting is typically the first step in the development process. The client's vision and goals are then identified and the plan is drafted. Specific goals can vary depending on the type of attraction being developed. From there, you can develop how you want the park to look and feel to guests.
Step 2: Conduct a feasibility study
Investors analyze the initial meeting findings. They determine if the elements all align with the goals and objectives. They also determine whether or not the theme park will be profitable. They're responsible for giving the green light for the next step. Providing the feasibility study team with visual tools such as digital design mock ups, alternative layout drafts, and realistic 3D models can help speed up decision-making. These are usually found within your theme park layout design software.
Step 3: Drafting the design
The master planning process begins at the design meeting. This stage involves developing a draft land-use plan that takes into account the feasibility study's recommendations. From there you can develop a master plan.
A master plan is a visual representation of the functional needs of a project. No matter who you're designing for, you can count on the fact that a theme park is typically composed of several themed areas. Each themed area has its own unique identity and distinctive architecture.
The main attractions and shops are typically placed at the edges of the park to attract guests. This approach helps maximize the overall capacity and crowd flow. Keep in mind that a well-designed circulation plan can help minimize pedestrian movements and improve guest comfort.
Additional action items are important for every step of the process
Storytelling
One of the first questions that you need to answer when choosing a ride set up is whether or not you want to tell a linear story with beats that lead to specific scenes or an environmental story that is immersive without being restrained by a time limit or flow.
A linear story often has events that are triggered as the vehicle enters a scene. An environmental story often has events that are triggered as the audience exits an environment.
Like Universal's Spider Man attraction or Disney's Haunted Mansion, a linear story employs scenes where a specific moment happens to the rider.
Some ride systems are better than others for telling a linear or environmental story. Attractions that are not able to provide a certain level of assurance that a vehicle will arrive and depart at a certain time are better for environmental stories because they don't require timing that specific event a linear story uses.
Perspective
There are two perspectives designers take when building a theme park layout: first-person and birds-eye view.
In first-person, the scenes you create build cumulatively as each guest moves through the space. It's helpful to think of each storytelling moment as a setting that guests will enter. This is how you make each space build on the previous experience.
You don't have to rely on ride structure either. These can be created by changing the temperature of a scene, or turning a corner to obscure one scene from another. How you organize these transitions and attractions can help build upon your evolving story.
A birds-eye view relies on 3D modeling and theme park layout design software to get the aerial view of the entire park at once. It is also helpful for communicating intent, experimenting with a variety of design alternatives, and for adding or subtracting attractions as the park continues to develop over time.
Tools like Social Tables can be used to add custom spacing to attractions, including building in buffers surrounding kiosks, waiting areas, and the rides themselves. You can also include exact measurements so you're never second-guessing whether or not your design will work in real life. This is especially important for theme park layout designs, where safety is the number one concern.
Best practices to create a theme park layout design guests love
The initial layout of a theme park attraction is often a challenging process. You have to consider all of the components necessary to ensure that the experience is as enjoyable as possible. This is a balancing act that involves making decisions about the layout and structural integrity of the venue. How you layout your space will determine how effectively you can engage your audience while keeping the structure and your guests safe.
Tell a story
Creating environments that are rich and complex is an absolute must for theme park layout design. Like a theatrical production, theme park attractions rely on a series of scenes to tell a story. These story vignettes can be linked together to create a unique experience. Designers have to think like film camera operators, guiding the guest's eye from one set piece to the next.
Consider the journey
The layout of your ride system is first and foremost dictated by how it is used. Lining up to get on a fast-moving roller coaster is different from preparing to ride a slow-moving boat. Determine how your atmosphere will differentiate between the two.
Remember spacing
You will also need to make sure that the buildings you are planning for have enough room for your equipment. A larger building will have more impact on your budget but the additional square footage may be useful in less trafficked areas of the park.
You should also consider the space between buildings, walkways, and rides. For example, due to the distance between the objects, water rides are more challenging to fit into a box and limit the number of turns. Think about how much extra space you'd need in that case.
As you develop your attraction's story, consider these physical limitations when designing your ride system. You'd be surprised how much they affect the overall experience.
Calculate capacity
How many guests can you accommodate each hour? The more people an attraction can attract the more money it can make. This doesn't mean that a lower capacity attraction isn't a good investment, but it does mean that your budget will likely be smaller than it is for a bigger one.
Strategize safety
Another factor that will influence how you tell your story is the necessity of keeping your passengers safe.
One common misconception is that safety represents a box you check off in your design. It's something you have to add and cross your fingers it doesn't take away from the rest of the layout. However, with the right strategy, you can incorporate safety into your guest journey. Working within safety regulations can inspire new and creative design ideas, or produce an alternate option you hadn't otherwise considered.
For example, if your guests are restrained by a lap bar, this will help shrink the bubble around them. However, if they are belted in, the experience becomes more immersive.
The types of rides your park will host also affects safety requirements and the stories you can tell through your layout design.
Trackless ride systems are a great example of this issue. They're typically referred to as computer-controlled vehicles that can meander. Since trackless attractions are very different from traditional ones, they require a variety of safety systems and equipment to keep them safe. They also need a flat and polished surface to effectively reflect show lights.
Safety also regulates that these vehicles have enough room to evacuate the guests. Having too many vehicles on a ride path can create islands or tracks that are too big to fit all of the guests.
Not only that, but many trackless rides tend to follow a specific route which can be clearly seen from the vehicle's tire tracks.
Even if you only have one ride of this type, you'll have to consider how its safety elements affect the park at large and the other rides you may want to pair with it.
Choose focal points
On the rides, your audience's eyes are trained on the driver, so make sure that they see the parts of your design that you want them to see. For example, most ride systems can't present scenes in front of the vehicle. This means that you need to place them in a way that draws attention to whichever side of the track your audience is expected to see.
Follow composition rules
The key to keeping your audience focused on your story is having them see the progression of your characters and the action in front of them. Like the compositional rules for a good illustration or painting, the arrangement of characters and the surrounding scenery should help draw the eye to a particular part of the scene.
A compositional style that draws attention to specific elements of a scene and their environments can help create a compelling visual experience for viewers. In the case of a theatrical set design, these tricks help make sure that the audience is looking at the exact place where the action and story are going next.
Play with perspective
Sometimes, a pathway, section size, or ride track doesn't always provide the depth needed to create a scene. This is where forced perspective comes in.
Creating depth in a shallow space can be done through the use of raked floors and horizon lines. In the case of a ride, the vehicle moves past the layered scenery, parallax enhances the sense of depth.
Think of a forced perspective scene as a mini-theater stage that uses a proscenium to frame your attention away from a distance. While static elements like scenery change as we move, this effect can help reveal a variety of different scenes as you move through each park section.
Being able to see elements through the pathways can slowly reveal what is to come. Having a good view of the rides themselves can also add anticipation and kinetics to what's already happening.
Use the following theme park layout design tips to perfect your plans.
Consider corners. Use corners to reveal upcoming scenes. Doing so will prevent you from looking back at the previous scene and focusing on the next one.
Include white space. It's possible to fill your attraction with visual stimuli, but it should also be balanced with a bit of calm.
Play with light. Lamp posts, scenery lighting, and practicals all play into the aesthetic, especially after sunset.
Make it accessible. A new theme park should be visually appealing and user-friendly to non-technical individuals and people with disabilities. It should also allow emergency crews access to key points of the park just in case. Check out the current ADA regulations, which apply to all new structures built in the US.
Now you know how to create an amazing theme park layout design
The theme park layout design process is straightforward but it's also complex. From the initial meeting to the final draft, designers must use the right tools to consider the needs of the park and the guests all at once by looking at it from every angle.
Thinking of adding a restaurant to your theme park layout design? Here are our top tips for how to design a restaurant layout that you can use to align your dining areas with your broader theme park goals.