Visiting the Grand Canyon is a bucket list for many people and an incredible chance to see one of the seven natural wonders of the world.
The Grand Canyon is a breathtaking National Park in Arizona state. It is visited by approximately 5 million people per year, and for good reason, it truly is an otherworldly experience.
Ready to travel again? Don't go without travel insurance.
I recommend SafetyWing Nomad Insurance. I've been using it since 2019 and I can assure you it's the perfect solution for nomads like you and me.
The South Rim is the most visited and popular area, and this is the area we will focus our attention on for this guide.
Most travelers find 2 days in the Grand Canyon to be enough time to enjoy all the main sights. However, you could definitely spend longer here if you wanted to. It's 277 miles long, so you will never run out of things to do.
Therefore, we have put together this Grand Canyon itinerary detailing everything to do and see on your upcoming Grand Canyon trip.
Before we start, note that the best way to get to the Grand Canyon is by driving, so you may want to consider renting a car.
If you don't wish to rent a car, there are also several Grand Canyon Group Tours available for you to join.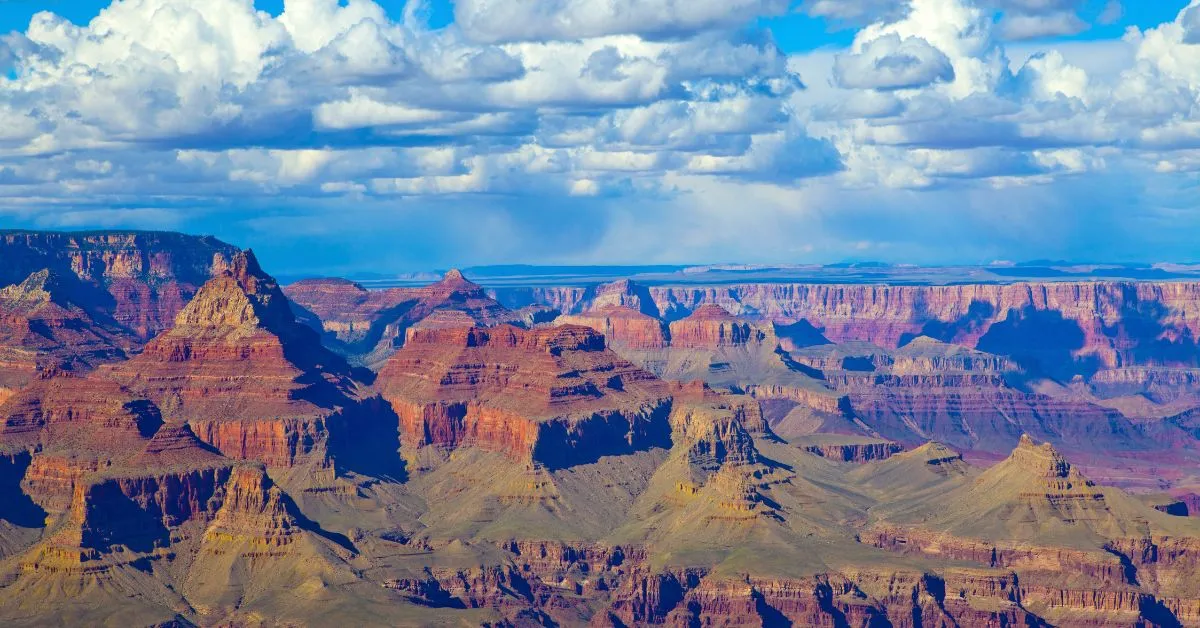 Day 1
For your first day in the Grand Canyon, you will visit some stunning viewpoints and enjoy some of the best stargazing in the world.
Morning
You will start your day in the Grand Canyon Village, which is the main entry point.
Here, there is the visitor center where you can grab a map, have a coffee, and stock up on water and snacks. You will either be dropped off here by your transport, or you can park your car here.
The visitor center is a great spot if you require more information about the park or any of the trails. Or, you can download a South Rim Self-guided tour on your phone to make it easier to get around.
A short walk from the visitor center is Mather point. This is your first look at the impressive Grand Canyon. Soak in the views, the colors, and the breathtaking vastness of the canyon.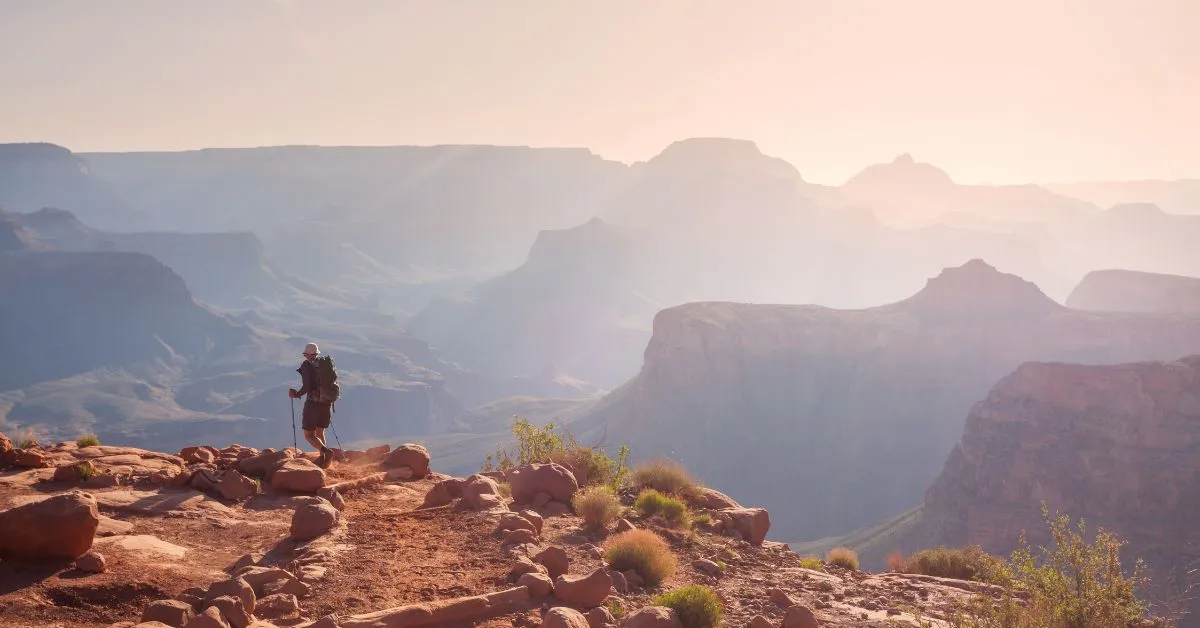 From here, you can start your walk on the South Rim Trail. This trail extends from the village area to Hermits Rest. This trail has some good conditions for walkers to enjoy and plenty of places to stop and take in the views.
However, the whole route is 13 miles long, so don't try to hike it all if you have only one day in the Grand Canyon.
It is best to do a 2-mile round trip on the South Rim Trail to start off your time in the Grand Canyon. You can see a lot of what it has to offer without going too far.
At the trailhead, you can hop on a shuttle bus and head back to the visitor center to grab some lunch.
Afternoon
Next, it's time to head toward Yaki Point. You can get a shuttle bus towards the Kaibab Trail Route to bring you here.
From here, you can start the South Kaibab Trail and hike toward the Colorado River. The South Kaibab is one of the many short hikes available in the Grand Canyon.
This is a safe and easy trail, although it is steep in parts. It is a popular hike, so you will meet many other hikers along this trail too.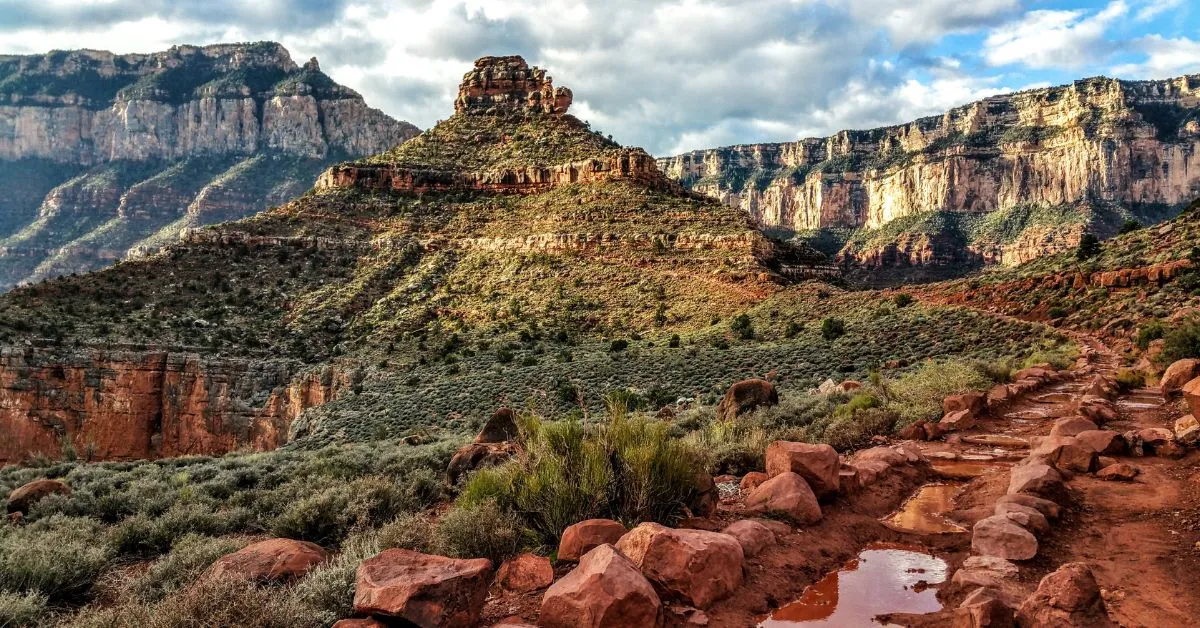 Along this trail, you will have endless amounts of incredible views to enjoy. Here, we will go as far as the Ooh Aah viewpoint. This is a 1.8-mile round-trip hike. But it is quite steep along the way.
Please note there are no water stops here so you need to bring your own supplies. There is also very little shade.
Once you have reached the Ooh Ahh viewpoint, it's time to head back to the trailhead and hop on the shuttle bus back to the main village.
Evening
After a full day of outdoor activities, it's time to head back to the visitor center for some star gazing in the village.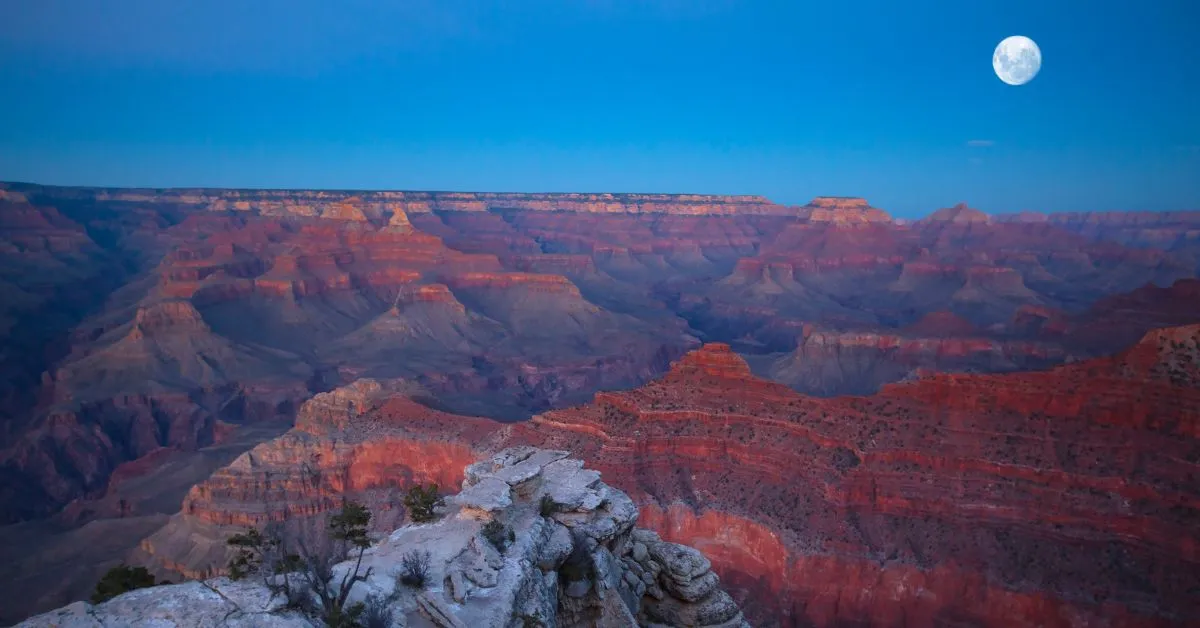 Things are pretty low-key in and around the Grand Canyon at night, of course. We recommend you grab some dinner and head for an early night ahead of a second day full of activities.
Day 2
Your second day in the Grand Canyon will be an active day to take in as much of the beauty of the area as possible.
Morning
Today's first activity is to enjoy the Hermit Trail. To get started, you can rent a bike and cycle to Hermit Rest.
Rent bikes from Bright Angel Bicycles and get their shuttle which drops you at the Hopi Lookout Road.
This means you skip the steep hills at the beginning of the trail and you can start off at the mostly flat ride towards the Hermit's rest. This cycle isn't too strenuous and is suitable for families.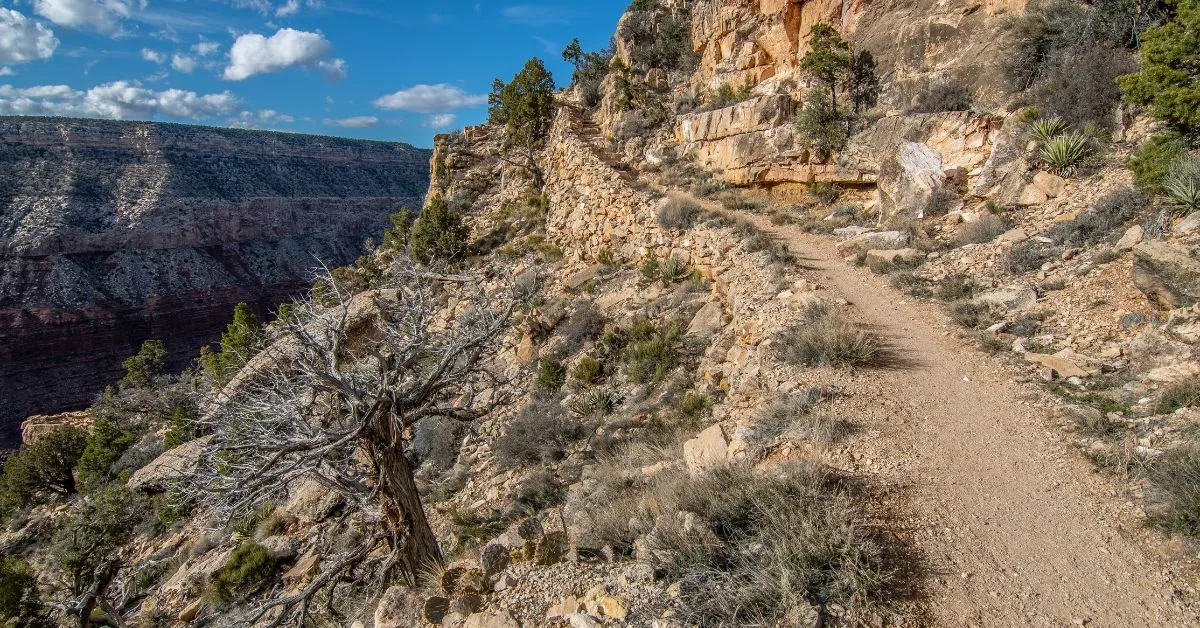 ---
---
There are plenty of spots to stop off along the way, including Lookout Studio, an old stone building that sits on the canyon's cliff. Take your time along Hermit road, and soak in the views.
When you arrive at the trailhead, there is a tuck shop for you to stock up on supplies and some extra water.
Afternoon
Now it's time to start your hike along Hermit's trail.
On the Hermit Trail, you can hike towards Santa Maria Spring. This is a total of 5 miles, round trip. There is a further hike to Dripping Springs from this trailhead, but that is advised only for experienced hikers.
Hiking boots are recommended for the safest and most comfortable experience.
Once you're back from the hike to Santa Maria Spring, you will then be able to get a shuttle home as the buses are equipped to take bikes.
Evening
Now it's time to head back to the visitors center to end day 2 in the Grand Canyon.
Grand some dinner in the visitor center, then hop in your car, or one of the shuttle buses on offer, and head to Desert View Road.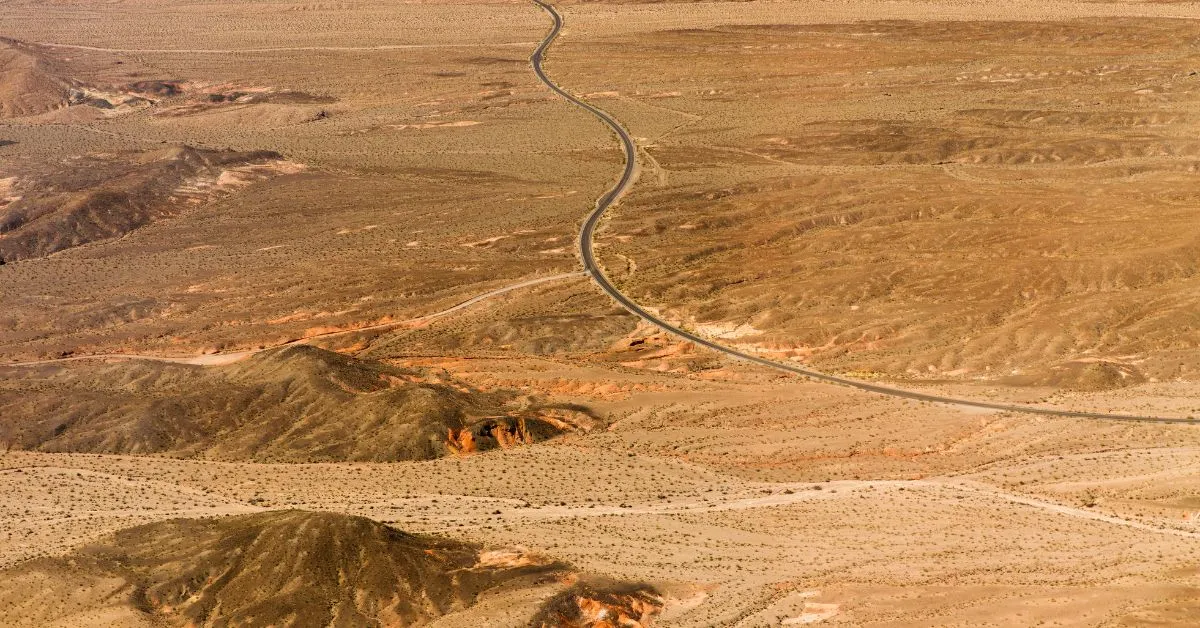 This is well known in the Grand Canyon as the best place for seeing the sunset and the best place for seeing the stars.
Be careful, as, during the winter months, this road can be icy and covered in snow.
Best Time To Visit The Grand Canyon
The best time of the year to visit the Grand Canyon is in either Spring or fall. Summertime is probably a good time to avoid it as it can be both extremely hot and extremely busy.
If you don't mind the cold, Winter can be an incredible time of year to visit the canyon as the views on offer are completely different, with snow covering a lot of the Canyon.
However, many trails won't be accessible due to snow and icy conditions.
How Many Days In The Grand Canyon Is Enough?
We think two days is the perfect amount of time to visit the Grand Canyon.
However, if you are short on time, check out our 1 day in Grand Canyon itinerary.
Where To Stay In The Grand Canyon For 2 Days
Wondering where to stay in the Grand Canyon? You won't be short of accommodation choices in the Grand Canyon, and you can enjoy staying near the park no matter your budget.
Here are our top hotel recommendations for your 2 days in the Grand Canyon.
Best Budget Accommodation
If you're on a tight budget, you don't have to slum it during your two days in The Grand Canyon. You will just need to stay a little further from the main village and visitor center.
We recommend the Red Gartner Inn for a budget accommodation near the Grand Canyon. It's situated in Williams, not too far from the Grand Canyon.
It is the perfect place to stay as it is a restored saloon from 1897 and is very quaint.
Best Mid-Range Accommodation
If you are looking for somewhere a bit more mid-range for your stay in the Grand Canyon, we suggest a stay at Trapper's Rendezvous in Williams.
This is a super fun place to stay as it is a Wild West Themed guest house where you can enjoy mountain views and lots of nature.
There are barbeque facilities at Trappers Rendevous for you to use and you can drive to the Grand Canyon in less than an hour.
Best Luxury Accommodation
If money isn't an issue, why not stay at the Hampton Inn Suites in Flagstaff? Here you can treat yourself to a King Suite for the utmost comfort after an active day in the Grand Canyon.
The hotel has its own pool and fitness center for you to enjoy and there is even some skiing close by the hotel in winter.
Final Thoughts On The Grand Canyon Itinerary
Whether you're traveling through the United States on a summer backpacking adventure or planning your next trip to Nevada or Arizona, the Grand Canyon is well worth a visit.
However, be sure to follow an itinerary like ours to make the most of your short trip.
To make your trip a smoother process, check out our guide to buying a United States SIM card, so you are never without data. 
Traveling to the United States soon? Read one of the following guides: