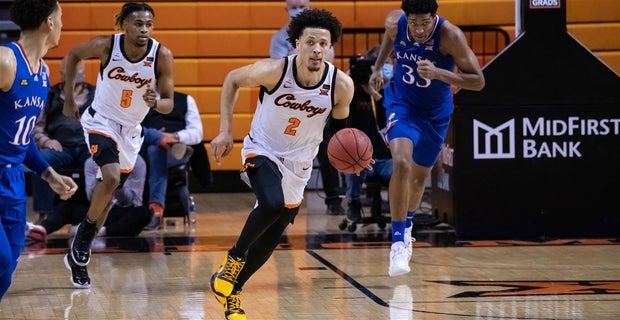 The 2nd ranked Baylor Bears will travel north to Stillwater, Oklahoma to take on the Oklahoma State Cowboys this Saturday afternoon. It will be the Bears first chance to see likely Top-3 NBA draft selection Cade Cunningham, one of the top players in the country who has lived up to expectations. Baylor (13-0, 6-0) looks to take their perfect record on the road against a dangerous Oklahoma State (9-3, 3-3) team.
The Cowboys have already defeated Kansas and Kansas State, two of the five Top-15 teams from the Big 12 conference. They have lost their three Big 12 games by a combined 7 points so this is a team that has been in every game they have played.
With the Cowboys coming off of a program suspension due to Covid-19 issues inside the team, it will be interesting to see who is and who is not available this Saturday afternoon.
SCOUTING REPORT
The star of the show is Cade Cunningham, the #1 player in the 2020 class. Even with high expectations, Cunningham is averaging 18 points, 6 rebounds, and 3.7 assists per game. A strong two-way player, it is easy to see why the 6-foot-8 forward is high up on NBA draft boards. He is very efficient (57% True Shooting %, 441st nationally), able to be a playmaker (21.6 assist rate, 343rd), and makes an impact on defense (3.3% block rate, 353rd, while averaging a combined 2.1 blocks and steals per game). He is a 38.8% shooter from deep, hits 81.7% of his free throws, and is a big minute player for the Cowboys.
Try BearsIllustrated.com for $1 Click Here
Sharing the spotlight is junior guard Isaac Likekele, the only other Cowboy scoring in double digits at 12.1 points per game. At 6-foot-5, Likekele plays so much bigger than his size even with guard skills. He averages 7.8 rebounds and 3.7 assists per game and is also a very efficient offensive player. Neither are volume shooters from deep at all, but capable if left alone on the perimeter.
In fact, that might be the primary weakness for these Cowboys, their lack of 3-point shooting. They are 286th nationally in percent of points from behind the arc (25.9%), and make just 32.5% of their attempts from 3-point range. They don't take a lot either, attempting just 20.5 per game (223rd nationally). This is another guard heavy team with guard Avery Anderson (9.1 points, 3.7 rebounds, 1.8 assists), Rondel Walker (9.1 points, 2.8 rebounds), and Bryce Williams (8.5 points, 2.5 rebounds, 1.5 assists) playing around half of the minutes around their two stars.
What the Cowboys don't have a lot of is size, with one of freshman Matthew Alexander Moncrieffe (6-foot-7) or twin sophomores Kalib Boone (6-foot-9) and Keylan Boone (6-foot-8) usually out there as a second big man next to Cunningham. Defensively, this makes them active and able to switch on pretty much any screen. They challenge shots well, allowing an effective shooting % of 47% (67th) but it leaves them susceptible on the defensive glass (30% offensive rebound rate, 242nd).
They like to play fast on offense, and slow the opponent down on defense. They are 40th in offensive tempo and 263rd in defensive tempo. This is an offense that takes the first good look, and thrives in transition. Turning the ball over in the open court usually ends in a dunk by Cunningham or Likekele.
GAMEDAY INFORMATION
BAYLOR (13-0, 6-0) at OKLAHOMA STATE (9-3, 3-3)

Jan. 23, 2021 • 1 p.m. CT

Stillwater, Okla. • Gallagher-Iba Arena (13,611)

LIVE STATS: baylorstats.com

WATCH: CBS

Talent: Tom McCarthy (pxp), Bill Raftery (analyst)

LISTEN: Baylor Sports Network | ESPN Central Texas

Talent: John Morris (pxp) and Pat Nunley(analyst)
NOTES OF THE GAME
This is the 87th meeting between the two Big 12 conference schools, with Oklahoma State having a 55-31 lead all-time in the series. Since Scott Drew has taken over though, the Bears are 19-16 against OSU. That includes a 9-1 record against the Cowboys since 2016 and five straight victories in Stillwater. The Bears have swept the season series 6 times in the last 9-seasons dating back to 2012.
Baylor leads the nation in scoring margin (+24.8) and is top-11 nationally in 3FG% (4th, 42.6), steals (7th, 9.5), scoring (9th, 86.5), effective FG% (7th, 58.6), offensive rebound pct. (6th, 38.4), assists (11th, 18.2), turnover margin (6th, +6.2), turnovers forced (4th, 19.0) and defensive turnover pct. (3rd, 26.7). Baylor is the nation's only team to win every game by 8+ points this season.
BU is the nation's only team top-5 ranked in adjusted offensive (4th) and defensive (1st) efficiency. BU has led by at least 10 points in every game this season and has led by 13+ at halftime in 9 of 13.
Baylor looks to start 7-0 in Big 12 play for the 2nd time in program history (first was 13-0 start last season). Baylor's 21-3 record in Big 12 play over the last 2 seasons is the league's best record in that span. BU is 11-2 in Big 12 road games over the last 2 seasons (rest of league is 39-69 in B12 road games).
PREGAME NOTES: 
Cade Cunningham is out for Oklahoma State, a massive loss for the Cowboys.  Baylor will run out the same starting lineup of Butler, Mitchell, Teague, Vital, Thamba.  
FIRST HALF UPDATES: 
Davion Mitchell gets the Bears on the board with a 3-pointer.  After a drought to begin January, Mitchell is starting to shoot it well again. The Cowboys are in a 2-3 zone to start the game, so Bears will need to hit outside shots and get on the offensive glass. Two early turnovers for the Bears, but not making shots over the zone right now, just 2-6 from the field to start the game.  Mitchell makes a layup for his 5th point and the Bears take a 7-6 lead over OSU at the under 16-mark.  
Baylor has a Kalib Boone problem.  He has 7 early points and is carrying OSU.  Already more than his per game average.  Baylor up to 4-turnovers as well and the game is just going very slowly.  OSU has slowed this game down to a crawl.  They are attacking the rim and going hard. Fouls are starting to rack up as Thamba has 2-fouls and the Bears have 7 total in less than 8-minutes.  Bears have just 12 shots right now, but have made 5 of them. OSU has made 5 of 10, but they have 10 paint points.  OSU leads 13-11 with free throws coming for the Cowboys at the under 12-mark. 
The Baylor effort isn't enough yet. OSU is taking it right to them and dominating the glass and the hustle stats.  They have scored all 21 of their points in the paint or the free throw line.  Baylor is being out-rebounded 15-7 and has given up 6 second chance points.  OSU leads 21-17 at the under 8-mark. 
Bears need more from Mark Vital, and they are starting to get it. Down 6-points for a bit, the largest deficit of the season for the Bears, Vital had three chances right at the rim and he got two of them.  Bears are putting Vital at center and that seems to have increased the offensive movement.  Baylor still trailing, but Vital will be going to the free throw line with Baylor down 26-24.  
The lead has grown to as large as 9-points for Oklahoma State, who are still playing so much tougher than Baylor. They are attacking the Bears bodies and getting to the rim or the free throw line. Baylor hasn't gotten the same benefit when they have attacked the rim.  Just 6 fouls on Oklahoma State, and three of them were drawn charges by the Bears.  The rebound edge is up to 23-11 for the Cowboys.  
Baylor closes on a 7-2 run with Jared Butler hitting a corner shot to cap the scoring. Bears trail 36-33 at the break. CORRECTION – The refs took a point away from Baylor, taking a 3-pointer away from Jared Butler and making it a 2-point shot.  Baylor trails 36-32. 
HALFTIME NOTES: 
Baylor has been bullied on the glass in this one, allowing 9 offensive rebounds, and being out-rebounded 23-12.  

Bears are just 13-31 from the field, while OSU is 13-28.  Where OSU has the edge is on free throws, making 8 of 12, compared to just 2 of 4 for the Bears.  

OSU at a very strong 1.125 points per possession, compared to 0.914 for the Bears.  6 turnovers for the Bears are hurting them, while OSU has 8. 

The Bears edge in turnovers isn't helping them speed up the game, as they have just 2 fast break points, against 6 for the Cowboys. 

A 22-12 edge on paint points for the Cowboys so far as Kalib Boone has a game high 11-points. He is 5-8 shooting. 

Flo Thamba is the only Bear that hasn't scored, everyone else has.  The Bears offense has been slowed due to the Cowboys pretty much playing exclusively in their zone defense.  Vital and Butler lead the Bears with 7-points. 

Baylor's 3-point shooting is keeping them in contact, making 4-11 so far. OSU has made 2, but only attempted 5.  

Matthew Mayer is the only Bear with more than 1 rebound, and he has 3. He also has a team high 3-turnovers.  
SECOND HALF NOTES: 
The Bears rebounding is still an issue.  OSU up to 12-offensive rebounds now, up to 12-second chance points. Bears took a quick lead off of a Butler 3-pointer, their first since leading 7-6.  Mark Vital had two nice layups off of designed plays to start the half, but both Vital and Thamba picked up their 3rd fouls early in the second half. OSU leads 42-39 through after the Bears push with just over 16-minutes to go.  
After the first five fouls of the half were all called on the Bears, Baylor has started to attack. Back-to-back trips to the line for Mayer and Thamba, who hit 3 of the 4 shots.  Baylor is just 5-8 from the FT line, while OSU is 10-16.  Baylor trails 45-44 with under 15-minutes to go. 
The Bears are getting no help from the officials. All calls going towards Oklahoma State right now, as the Cowboys are already in the bonus with over 12-minutes to go.  Baylor isn't helping themselves much though, but a few obvious calls have not gone Baylor's way.  OSU is earning a lot of it by being more aggressive.  The Bears are hanging tough though, down 50-48 despite some foul trouble and going cold from 3-point range in the second half (1-6).  
The Bears are making their move. The Bears are on a 15-1 run and now lead by 12 over OSU.  The man driving that run, Jared Butler. Three straight 3-pointers for the Bears all-american as the defense is stiffening and really getting after it now. 
Baylor's defense is making it very difficult for OSU to do anything.  The run is up to 17-1 now, and the Bears lead by 14.  OSU hasn't made a field goal in almost 4-minutes. They have missed their last 7-shots and have made just 2 of their last 10.  Vital has been a major key along with Davion Mitchell.  Likekele, who has lived in the post, is now being doubled and the Cowboys haven't adjusted. 65-51 Baylor with 7:03 to go. 
The Bears have turned it on, now with all systems firing. The lead has grown to as large as 18-points as the Bears are challenging everything.  Jonathan Tchamwa Tchatchoua has 4 blocks, including two on fast breaks during the past few minutes.  Mark Vital is up to 17 points and is going to the free throw line with the Bears leading 77-61 with 3:32 to go. 
Baylor will win their 14th straight game, 81-66, over Oklahoma State who led for most of the game. The big run came and just blew past the Cowboys.